Learning the Arab way of life in a magical kingdom
Eileen Nixon and Carol Hall of Rehoboth recently traveled aboard a luxurious Emirates Airlines 380 airbus to the futuristic Kingdom of Dubai in the United Arab Emirates. While there, they took a 60-second ride in an elevator to the 125th floor (approx. 1600 ft) of the Burj Khalifa, the tallest building in the world, to enjoy the stunning views. They shopped in the world's largest mall with its underground aquarium and unique ski slope. The ladies "dune bashed" through the desert to a Bedouin campsite where they rode camels and enjoyed belly dancers. Aboard a lovely old ship, they traveled through the Dubai Creek around the city while enjoying native food and swirling dancers. Eileen enjoyed her first helicopter ride and was co-pilot on the adventure; breathless as she viewed the incredible sights over city and sea. Visiting Abu Dhabi afforded them a tour of the Grand Mosque. Their trip was magical down to the gold flecks served in the demitasse cups of coffee. Here they are pictured sharing a copy of the Cape Gazette with an Arab gentleman.
The Traveler Series is sponsored by
Bob & Cathy Cardaneo
302-945-4620
rcardaneo@CruiseOne.com
www.CruiseWithBob.com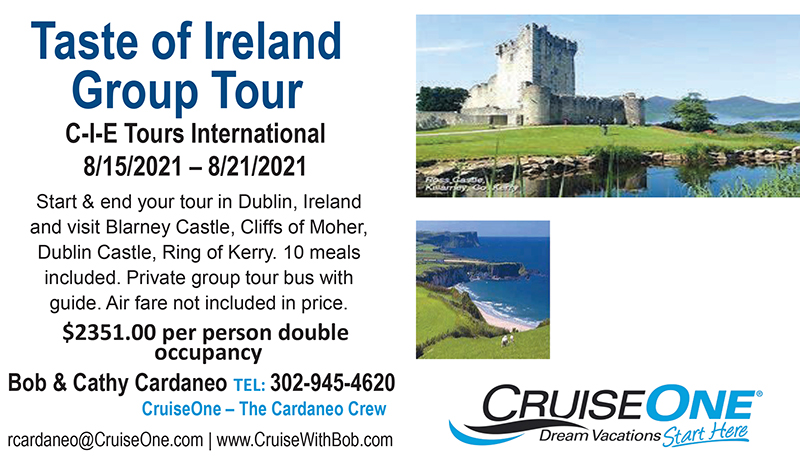 Welcome to The Cape Gazette Archive.
This content is provided free of charge
thanks to our sponsor:
Close ad in...
Close Ad